(Note: This post, Praying for Your Children to Be Healthy and Safe, ran earlier this week at Club31Women.com, a community of women who are committed to building strong marriages, healthy families, and vibrant relationships with the Lord. You'll find lots of helpful resources there, from tips on parenting teens to weeknight recipes to a free guide to finding PEACE in your home. Um…yes please!)
Praying for Your Children to Be Healthy and Safe
When the Coronavirus first began spreading, our daughter Virginia—who lives in New York City—decided that she should evacuate and come social distance with us. That sounded like a good plan to me; Virginia is a lot of fun, and she's always full of ideas.
One of her ideas, as she left New York, was to swing by the SPCA and pick up a kitten.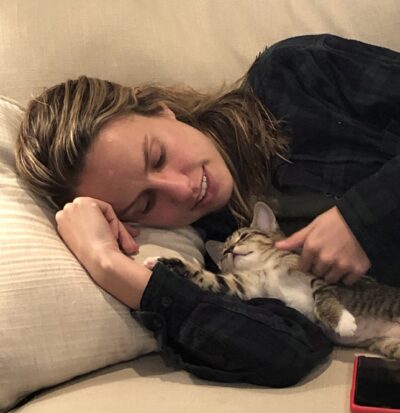 Five months later, we were still working from home—my husband and I, two of our four adult children, our one-year-old puppy, and the cat. Everyone seemed happy. One morning, though, Virginia woke up and noticed that Quarantine Kitty had a cut or a burn of some sort on her neck. She was still purring so we didn't think it was fatal, but Virginia wasn't taking any chances. She bundled the cat into the car and was at the vet's office by the time it opened.
The cat, as it turned out, was fine. But Virginia was not. She was rattled.
"I love this kitty so much," she said, "I can't stand to think of her getting hurt—"
She stopped, mid-sentence, and looked at me. "Mom," she said, "I cannot imagine what it must be like to have a child who gets sick or hurt…how panicked you must feel. I bet it's even worse than when it's your cat."
Um, yes. It is worse.
And whether it's the baby's 2 a.m. fever, the child's bloody knees on the playground, or the teenager's late-night phone call, we all know what it's like to feel that lump of fear in our throat, to want our kids to be safe, to protect them however we can.
So what do we do?
We pray. We do what 1 Peter 5:7  invites us to do:  We cast all our anxiety on God, because he cares for us.
"I want God to keep my kids safe."
Twenty years ago, when I began working on a book about how we can pray for our children, I surveyed more than one hundred parents about what they wanted God to do for their families.  One of the most oft-repeated answers was, "I want God to keep my kids safe."
Boy, did I understand that. We had four kids in six years, and it seemed that somebody was always getting sick or—in Virginia's case, anyway—running into a doorknob or (not making this up) eating part of a glass thermometer. I knew she was tough, but I wondered how long her luck would hold out. What would become of Virginia during her teenage years?
I remember crying out to the Lord, asking him to protect her. "What happened to the hedge of protection and the guardian angels I asked you to provide for our children?" I cried. "Aren't you paying attention?"
Almost immediately I sensed God's answer. "I am protecting Virginia," he spoke to my heart. "In fact, I've had to put some of my best angels on the job, just to keep her alive!"
It sounds funny now, but God's promise of angelic protection—an invitation he extends to all of us in Psalm 91—was made real over and over again in Virginia's life, as she grew. And now, as we release the 20th Anniversary Edition of Praying the Scriptures for Your Children, I can attest to his faithfulness.
My kids—like all kids, I guess—had their share of lumps, bumps, and bruises. And I know that the Psalm 91 promise is not some sort of magical "guarantee" that our children won't have to suffer. But I am convinced that God hears and answers our prayers, and that his John 15:7 promise ("If you remain in me, and my words remain in you, ask whatever you wish, and it will be done for you") is true.
Scripture Prayers You Can Pray
Our children are grown, but I am still asking God to protect them and keep them safe. How am I praying? Here are two of my favorite scripture-based prayers; feel free to personalize these for the people you love:
I pray that all may go well with _____ and that they may be in good health, as it goes well with their soul. (3 John 2) 
Let ______ take refuge in you and be glad; let them ever sing for joy. Spread your protection over ______ that they may rejoice in you. (Psalm 5:11)
You'll find dozens more prayer prompts like these—prayers for our kids' physical safety, as well as their spiritual and emotional health—in the new book.
God never meant for us to have to keep our children safe on our own. He meant for us to pray, slipping our hand into his as we trust him to accomplish his plans and his purposes in our kids' lives. And as you pray, know that I am praying for you: "May God cause you to flourish, both you and your children." (Psalm 115:14)
❤️
You'll find prayers for your children's safety, relationships, faith, character, their future, and more in Praying the Scriptures for Your Children: 20th Anniversary Edition. The hardcover volume comes with a satin ribbon and a presentation page (making it perfect for gift-giving), but it's available in paperback, too. Click here to order.