(Note: This is Part 2 of a post about how we can pray for our children. It ran earlier this week over at Club31Women, a site where you can find encouragement for marriage, parenting, and all sorts of other good-for-life stuff, from menu prep tips to Bible study how-to's.)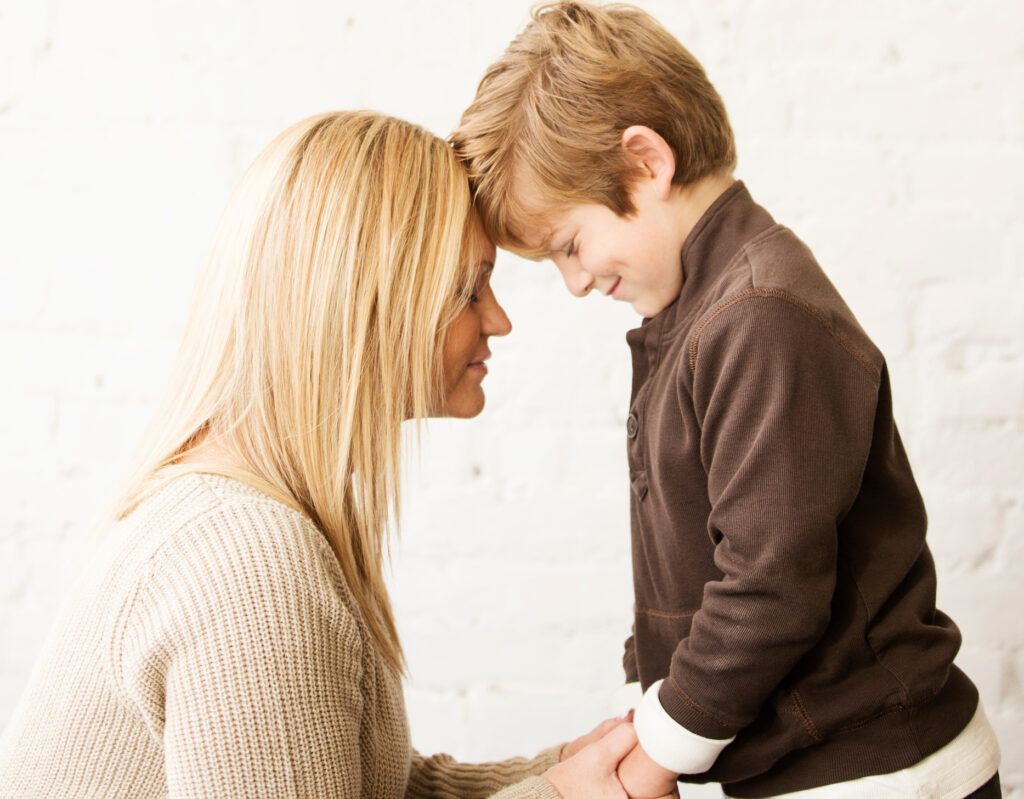 I'll never forget the story that our daughter came home with after her first week at a new school.
"Mom," six-year-old Hillary said, "I think my new teacher is a Christian."
We'd just moved to town and didn't know anyone. I was intrigued. "How can you tell?" I asked.
"I can tell because she prays," Hillary explained. "Almost every day she says, 'Oh God, help me get through this day.' Some days, though, she just says 'Oh God' and puts her head down on her desk."
I laughed—at first. But then I realized that the teacher's prayer—Oh God, help—is one I've prayed over and over again, particularly in my parenting journey. And it's a prayer that King David used a lot, too; Psalm 70 is pretty much one long cry for God to show up!
God, Help
God, help is a good (and perfectly legitimate) prayer. But there's another strategy I like to use when I pray, especially when I pray for my children. I like to take the actual words we read in the Bible—words first breathed by God—and use them to give shape to my prayers. Not just to help define my requests, but also to influence my desires for their lives.
Which is, I think, what Jesus was getting at when He said, "If you remain in me, and my words remain in you, ask whatever you wish and it will be done for you." That's John 15:7. It's a powerful promise—and one that becomes easier to understand when we allow the Bible to illuminate our understanding and transform our perspective. When that happens, the cry of our heart becomes the very thing that God is longing to do!
And honestly? There is not a need we will face in parenting—or in any of life—that God has not already thought of, and provided for, in His word.
Say your child struggles with questions about their identity or their sense of self-worth. Psalm 139:14 can become a powerful prayer:
Help ________ realize that they are fearfully and wonderfully made, and that they are Your marvelous workmanship.
Or what about loneliness? Proverbs 27:17 speaks to that concern:
Surround ______ with wise and faithful friends, people who will sharpen them as iron sharpens iron.
And Scripture offers a treasure trove of promises about things like wisdom and guidance. Consider praying Psalm 25:4 for your loved ones:
Show _______ your ways; teach them your paths; guide them in your truth.
These are the sorts of easy prayer prompts you'll find on this monthly prayer calendar (and if you prefer a version for teens or adult children, click here.)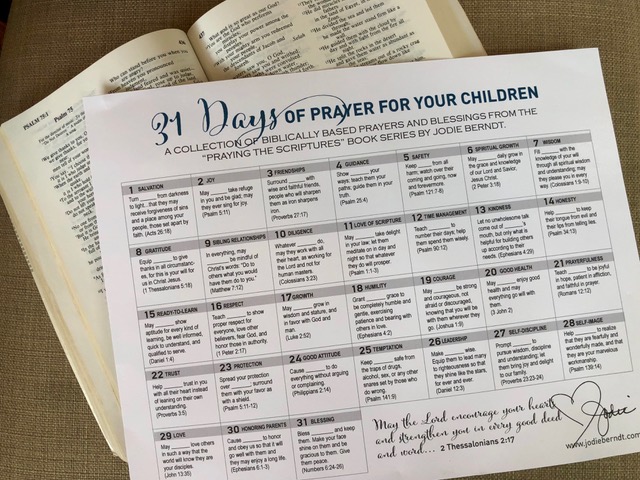 When You Pray for Your Children, Tell Them!
And just as a side note… Let your kids know that you're praying. Could there be anything more encouraging to a child than to know that their earthly parent is talking to their Heavenly Parent—the One with unlimited power and love—about the details of their lives?
I love what one reader has done, over the years. She jots her kids' names in her copy of Praying the Scriptures for Your Children, and then dates them. "I show my kids some of the prayers with their name inserted in them to let them know I am praying," she told me. "When I go back, I can see how I have prayed through different phases. I can see answered prayers – and so can they."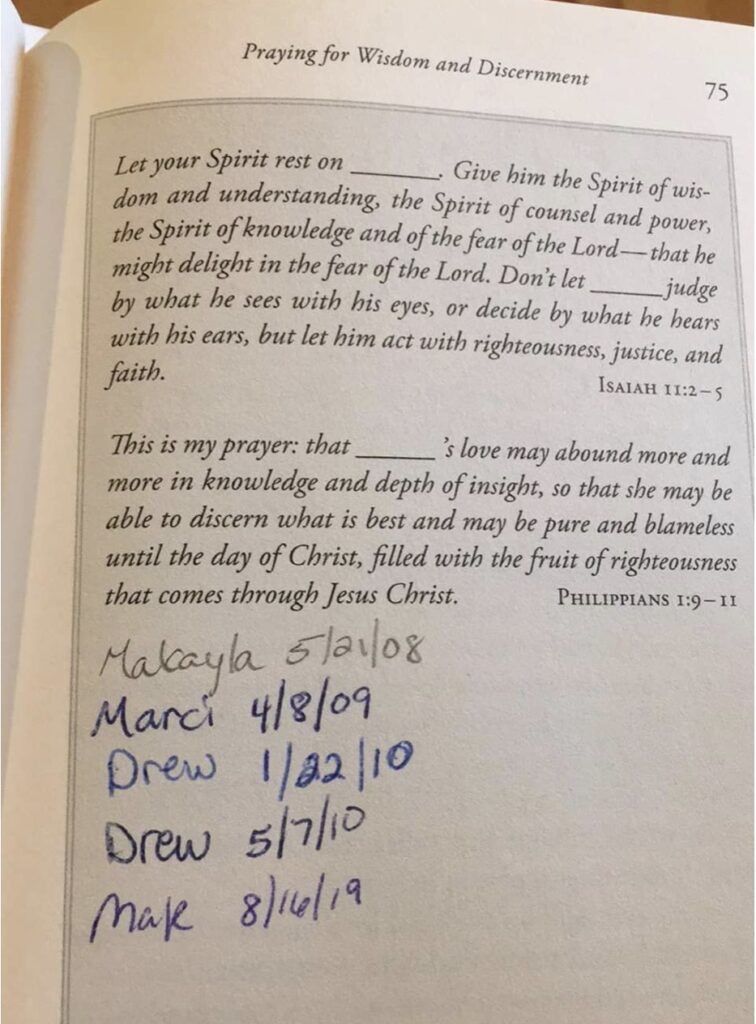 When our children were younger, I'd sometimes write a prayer verse on a little card and tuck it into their lunchbox, or leave it on their pillow. And once a year, I'd trace their hands onto colored paper and write prayer verses on them. I'd post the hands on the fridge as a tangible reminder (to them, and to me) that God was at work in our lives.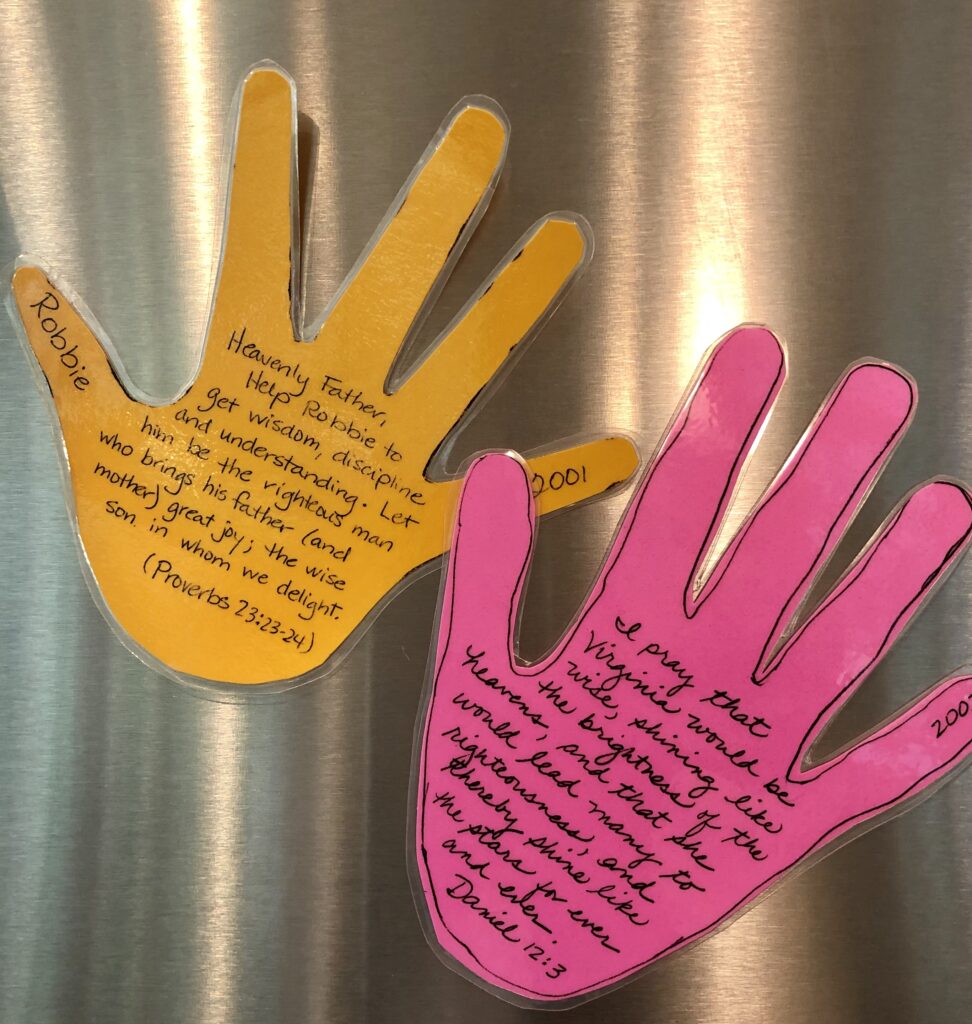 Now that my kids are older (and their hands are too big to fit on the fridge!), I make bookmarks. And when I find a new verse that speaks to a need they may have, I might send a text to let them know what I'm praying.
Do my kids roll their eyes at this stuff? They used to, sometimes—particularly when they were teenagers and they didn't think they needed all that much prayer. But now that we're on the other side of those years (and I say this to encourage anyone who's slogging through a less-than-fun family phase) my kids actually ask me to pray.
Seriously.
They believe in the power of prayer. Like me, they have discovered that God's promise in Isaiah 55:11 is true. That's where He says that His word will not come back empty, but will accomplish the desires and the purposes for which it is sent.
God has wonderful plans for our children's lives, and His word really does accomplish what He desires. Let's allow it to breathe new life (and life-shaping power!) into our prayers.